The Akademik Fedorov and the Russia run to the North free
The research vessel Akademik Fedorov participating in the expedition to the North Pole today at three o'clock in the morning met the nuclear-powered ship Russia , and right now the vessels move in trail.
Today at 10.30 the expedition was at 72 degrees and 52 minutes of the north latitude, and 9 degrees and 73 minutes of the east longitude, and held a course of 26 degrees to the North in the Barents Sea. Wind - 0.8 meters per second, the air temperature - 7 degrees above zero, water temperature - 4.7 degrees above zero.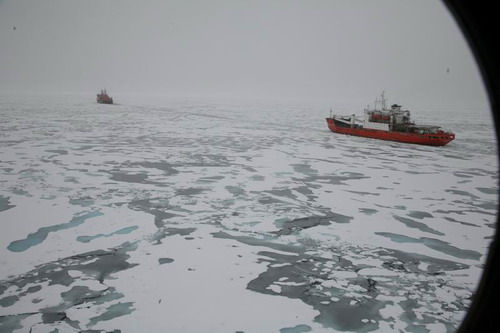 Recall that the icebreaker Russia left Murmansk on July 24th at 3 pm. The research vessel Akademik Fedorov cast off on June 25th after midnight. The same morning, being only 57 miles away, there was a breakdown in the propeller shaft. The vessel was in repair for a few hours. A helicopter was sent to Murmansk for repair parts. After a few hours of repair work it moved slowly. Then again, stopped for repair. The Fedorov chief mechanic said they carried out some repair work related to the lubrication system.
The media reported that the vessel Akademik Fedorov suffered a disaster and the icebreaker Russia boomed to help it. This data did not correspond to reality. The icebreaker Russia after a few hundred kilometers was forced to turn around and go towards the Akademik Fedorov.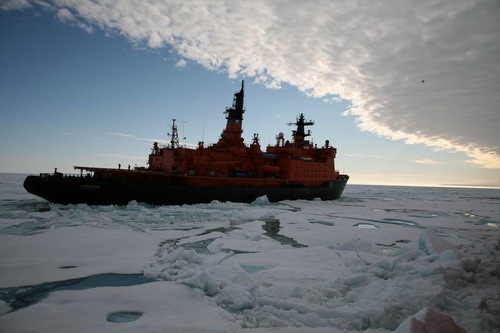 Today at 11 am Artur Chilingarov, the Special Representative of the Russian President on the Third International Polar Year flew in the helicopter to the Akademik Fedorov. Currently he is in a meeting. Mechanics performed the necessary work, and the expedition ran free towards the north.
The International Exhibition Company (MVK) is a media partner of Arktika-2007 expedition. The purpose of the MVK expedition is to develop the exposure of the polar museum, which was first discovered at the North Pole. "The North Pole – new opportunities in life and business" project is headed by Alexey Shaburov.
On the phone,
Natalia Yurchenko Press-secretary of Director General of MVK
The research vessel Akademik Fedorov, the Arktika-2007 expedition
Moscow – Murmansk – the Barents Sea
***We recall that on July 10th, the flagship of the Russian polar fleet, the research vessel Akademik Fedorov took off for the Arktika-2007 expedition from St. Petersburg. The high-latitude unprecedented deep-water arctic expedition will be organized during the first voyage of the Akademik Fedorov. For the first time in history, Russian deep-water manned submersibles will dive near the North Pole target. The Mir submersibles are to dive 4, 200 m deep under the North Pole.