The Arktika-2007 expedition: Dive at Franz Josef Land
Today, at 3 pm, the icebreaker Russia left Murmansk for the North Pole. This is a unique expedition of a large group of Russian scientists, whose main task is to study the shelf of the Arctic Ocean, to clarify the limits of the shelf from the New Siberian Islands to the North Pole.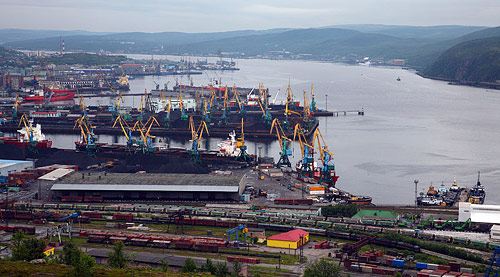 For the first time in history, experts will dive beneath the ice of the Arctic Ocean at the North Pole to a depth of 4 km for research. The research vessel Akademik Fedorov, accompanied by the ice-breaker Russia will take the scientists to the pole.
The Mir deep manned bathyscaphes will dive to the bottom of the Arctic Ocean. Once these bathyscaphes worked on the set of the film Titanic.
Today in an interview with MVK*** expedition leader, Artur Chilingarov noted that they decided to check the Mir submersibles' work around the archipelago of Franz Josef Land, "Here we find a place to stand at the edge of the ice and make a technical descent to work out the dive" This measure is aimed at ensuring the safety of the dive.
Natalia Yurchenko on the phone
*** We recall that on July 23rd, the MVK team left for the Arctika-2007 expedition, which is to be the largest one held by our country during the International Polar Year, which began on March 1st, 2007. The team MVK includes: personal spokesman of Director General of MVK, Natalia Yurchenko; editor of the scientific department of Around the World magazine, Alexander Sergeyev; cameraman, Dmitry Kuznetsov; and photographer, Alexey Nagaev.