Greeting of Arthur Chilingarov, Special Representative of the President of Russia on the issues of International Polar Year
Dear Friends!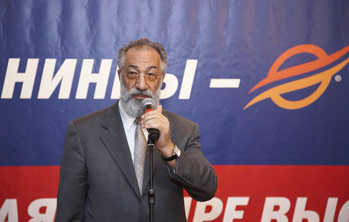 I heartily congratulate you with the opening of the Mobile polar museum, devoted to the papaninities' expedition to the North Pole and Chkalov and Gromov's flights, in Rostov-on-Don.
On April 23, 2007 the MVK Mobile polar museum organized its first exhibition devoted to "NP-1" at the North Pole and then opened it in Moscow.
The exhibits demonstrate the audience bravery and heroism of polar explorers working in extreme conditions in the ices and toros and the history of research and exploration of this harsh land. They show the achievements that Russian researchers and industrialists got in producing innovative technical means, aviation and ships.
The mobile polar museum is now touring Russia, contributing to further study and exploration of polar territory, attracting the audience and businessmen to Arctic and restoring the polar traditions. There is a good background for this.
On July 14, 2007 the expedition to the North Pole was launched, where on August 2, 2007 the Russian polar explorers crew dived in a deep-water manned vehicle "Mir-1" 4,300 m deep to the Arctic Ocean bottom, erected the Russian flag there and took the soil samples.
On September 20, 2007 the polar expedition "NP-35" put down from the A-ship "Rossiya". MVK International Exhibition Company was the media partner of both expeditions.
The results of the expedition proved that Russia is a great polar power and it contributes to study and exploration of polar territories.
Best wishes,
Hero of the Soviet Union,
Arthur Chilingarov