support team
Greeting by Yu.V. Roslyak, First deputy of Moscow mayor
Dear friends!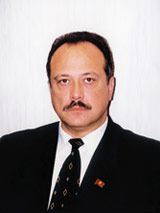 Let me on behalf of Moscow Government and myself wish you success in the accomplishment of conceived global projects.
The non-standard idea of the "Role of history in life and business" Museum creation and wonderful start (at the North Pole) of this exposition impresses me with the organizers" originality of thinking, capability to look anew at the popularization of necessary to all of us but ancient qualities: bravery and courage, will power and the ability to overcome obstacles, kindness and reliability.
Life is not always business but business is always life. Really business-minded and successful are those who can take making decisions, have responsibility, take hazards when necessary and sometimes use caution reasonably. Those were and still are hero explorers of the North. This is what modern businessman should be; even in most desperate situation not losing wisdom, recollection, readiness to act and of course a sense of humour.
Good luck to you in life and business! Let the forethought be realized with the output you wish. Let the Museum pull together friends and business partners around you. See you in Moscow soon!
Yu.V.Rosliak,
First deputy of Moscow mayor