A new project is started
On July 12th, 2007 Alexey Shaburov, Director General of MVK International Exhibition Company met Artur Chilingarov, the Representative of the Russian President concerning the 3rd International Polar Year, the Deputy Head of the Russian Parliament. They agreed to create the section dedicated to modern polar researchers in the framework of the Polar Museum Role of History in Life and Business, marking the 70th anniversary of the first Soviet research drifting station NP-1, set up by Schmidt and Papanin, and the two polar flights of Chkalov and Gromov.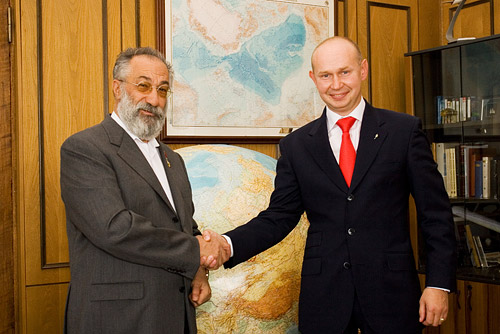 As a result of the meeting, MVK International Exhibition Company became the information partner of the high-latitude deep-water expedition to the North Pole, Arktika'2007. In the framework of the expedition on July 29th the submersibles Mir are going to dive near the North Pole target. The Mir crafts will dive to the Arctic Ocean bottom, 4, 200 m deep. The MVK team consists of Natalia Yurchenko, the Press-Secretary of MVK Director General, Alexander Sergeev, the Editor of the Scientific Department of Vokrug Sveta, magazine and Dmitry Kuznetsov, the Cameraman. MVK representatives will highlight the expedition and transmit the latest news. MVK will shoot a film about this unprecedented event and keep the trace of the expedition at www.mvk.ru and other media outlets. The moment of diving will be transmitted live on the Voice of Russia radio station.
MVK press service
Tel: (495) 995-05-95