Museum on the floor of the Arctic Ocean
The Mobile polar museum's exhibits have once again appeared in the movement. They served as a connecting link in the history of the Arctic. The Russian flag and exhibits of the mobile polar MVK museum dived to the floor of the Arctic ocean.
Before the dive Anatoly Sagalevich, Head of the Deep Water Manned Vehicles Laboratory, Doctor of Science engineering, met with MVK's representatives and took the exhibits. When Mir-1 dove to the ocean floor these exhibits were onboard the bathyscaphe.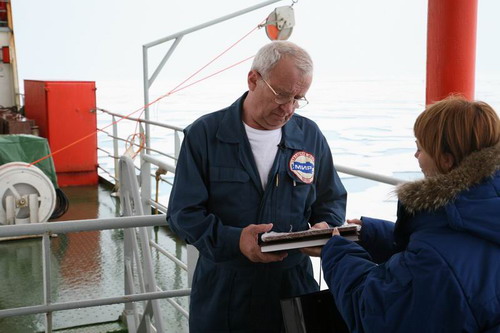 On August 2nd, 2007 the historical dive to the Arctic ocean bottom was carried out. Two unique deep water manned vehicles Mir-1 and Mir-2 dove to the ocean floor at the North Pole point and settled the flag of the Russian Federation. Mir-1 had aboard the Vice Chairman of the State Duma Arthur Chilingarov, Deputy Vladimir Gruzdev and Captain Anatoly Sagalevich.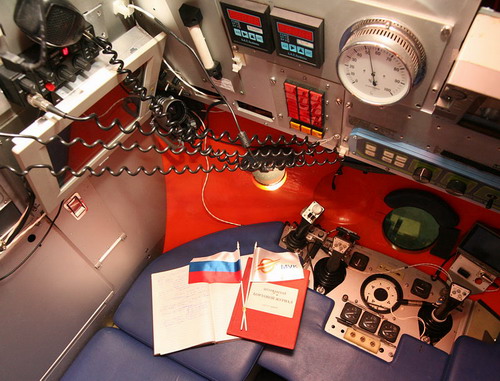 Together with the hydronauts the voyage to the ocean floor shared the navigational log-book of TSAGI-25 (M. Gromov's log-book when in 1937 he flew across the North Pole), as well as the MVK log-book of the Arktika-2007 expedition. After the dive Anatoly Sagalevich wrote in the log-book:
Time 12:08. Depth 4 261 meters. Position 0º0,097 N; 0º0,018 E.
The North Pole was conquered.
At 1:33 pm we settled the Russian flag on the ocean bottom.
Sagalevich also wrote: "This log-book (MVK log-book) dove with us at the North Pole onboard Mir-1 We also took two flags – Russian and MVK's, and the log-book of the TSAGI-25 plane".
Arthur Chilingarov made a note in MVK's book of the Arktika-2007 expedition: "Diving and emersion – no comments. It is good that we can see the Arctic. I congratulate all the Russians on conquering the North Pole!".
Natalia Yurchenko,
press-secretary of the Director General of MVK
"Akademik Fedorov", "Arktika-2007"
Murmansk – Franz Josef Land – Arctic ocean – North Pole